YK-924HD High defination flexo printer slotter machine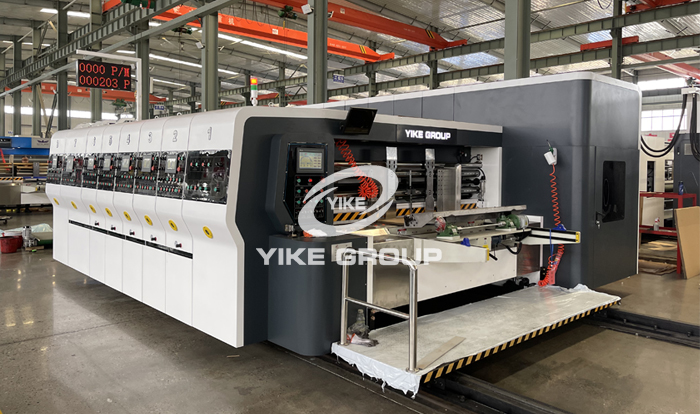 Lead-edge Feeding System
1. Can measure the corrugated cardboard thickness, can adjustment feeding gap automatic
2. 7.5KW high pressure centrifugal fans, according to the cardboard
warping degree of frequency control pressure, to ensure warp
cardboard or thin cardboard high-speed accurate transmission.
3. Left and right side baffle position electrically adjustable,
screw-driven.and can remember by computer.
4. Front baffle adjust the position of the upper and lower intervals
synchronization by manual.
5. Skip-feeding devices, could select skip-feeding according to needs. To ensure that large-scale cardboard can also be processed.
6. Install 7" touch screen, could automatically display the
production quantity, production speed, and set the production quantity and every operating.
7.Slotting part is equipped with the interlock switch, to achieve the
emergency stop, stop feeding or feeding.
Printing Roller
1.With printing plate, outer diameter φ300mm
2. High quality steel production, surface grinded, hard chromium-plated. Static balance adjustment, stable operation, suitable for high speed running
3. Roller horizontal direction and circumferential direction with datum line, convenient for align plate
4.Fixed coil axis, suitable for standard hanging slats, realize rapid change plate
5.Electric 360° adjust printing roller, automatic digital display adjustment, remember store digital.
6.Installed with foot switch to control plate roller reversing, convenient change plate
7.Auto-zero function, order memory.
8.Printing roller plate-change and fix-plate function.
9.Printing roll axial is adjusted left and right by manual, maximum movement left and right 10mm,auto-zero instruction.
vacuum sucking transport UNIT: ( option)
Use Italy technical sucking transport device