Characteristics:

The biggest characteristic of the Flexo Printer Slotter Folder Gluer Inline (FFG Inline) is high production efficiency, high per capita output value, low labor intensity and low labor cost. It is a common equipment in foreign countries, suitable for producing large quantities of orders, and 2-3 people can complete the entire carton production task. If the factory has a fully automated logistics system, the equipment can be used to maximum efficiency. The intelligent aspects of the printing press are mainly reflected in the daily work, such as hanging the plate, changing the mold using the fast automatic installation mode will greatly reduce the labor intensity.

Specification:
| | | | |
| --- | --- | --- | --- |
| Item | YKL-920E | YKL-1228E | YKL-1624E |
| Wall board thickness | 60mm | 60mm | 50mm |
| Max Machine Speed (pcs/min) | 250 | 200 | 180 |
| Economic Working Speed (pcs/min) | 200 | 150 | 130 |
| Max. Feeding Size (mm) | 900X2200 | 1200×2800 | 1600X2400 |
| Min. Feeding Size (mm) | 300X600 | 400x900 | 400X900 |
| Skip-feeding Size (mm) | 1200X2400 | 1400×2400 | 1800X2400 |
| Standard Plate Thickness (mm) | 7.2 | 7.2 | 7.2 |
| Min. slotter distance NEGATIVE | 300X100X300X100 | 300X100X300X100 | 300X100X300X100 |
| Max slotter depth (mm) | 600 | 600 | 600 |
| Print precision (mm) | ±0.3 | ±0.3 | ±0.3 |
| Slot precision (mm) | ±1.0 | ±1.0 | ±1.0 |
| Die cut precision (mm) | ±1.0 | ±1.0 | ±1.0 |
| Suitable Cardboard Thickness (mm) | 2 - 11 | 2 - 11 | 2 - 11 |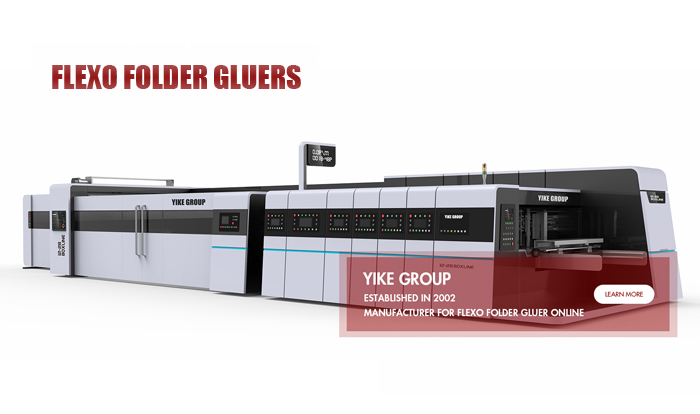 LEAD EDGE
Feeder Unit
Lead-edge Feeding System
ü Can measure the corrugated cardboard thickness, can adjustment feeding gap automatic
ü 7.5KW high pressure centrifugal fans, according to the cardboard
warping degree of frequency control pressure, to ensure warp
cardboard or thin cardboard high-speed accurate transmission.
ü Left and right side baffle position electrically adjustable,
screw-driven.and can remember by computer.
ü Front baffle adjust the position of the upper and lower intervals
synchronization by manual.
ü Skip-feeding devices, could select skip-feeding according to needs. To ensure that large-scale cardboard can also be processed.
ü Install 7" touch screen, could automatically display the
production quantity, production speed, and set the production quantity and every operating.
ü Slotting part is equipped with the interlock switch, to achieve the
emergency stop, stop feeding or feeding.
Printer Unit
Printing Roller
ü With printing plate, outer diameter φ300mm
ü High quality steel production, surface grinded, hard chromium-plated. Static balance adjustment, stable operation, suitable for high speed running
ü Roller horizontal direction and circumferential direction with datum line, convenient for align plate
ü Fixed coil axis, suitable for standard hanging slats, realize rapid change plate
ü Electric 360° adjust printing roller, automatic digital display adjustment, remember store digital.
ü Installed with foot switch to control plate roller reversing, convenient change plate
ü Auto-zero function, order memory.
ü Printing roller plate-change and fix-plate function.
ü Printing roll axial is adjusted left and right by manual, maximum movement left and right 10mm,auto-zero instruction.
vacuum sucking transport UNIT: ( option)
ü Use Italy technical sucking transport device
Anilox Roller
ü Outer diameter φ212mm
ü Steel anilox roller, brand HAILI
ü anilox roller mesh:200-300 line
Slotting Unit
ü Angle cutter made by ITALY model, cutting ring use Rubber materils
ü Computer auto control cardboard size by Linear guideway
ü 6 shaft with rubber pre-creasing , creasing , slotter
ü The first pressure line round, after preloading cardboard not easily crush
ü The above press round Urethane appearance package, will not damage the cardboard
ü The slotter knife stock use traverse mechanism, screw with linear guide, to move more flexible and precise
ü Slotting phase and box height, computer and electric digital control
ü Preload, creasing gap adjustment adopt computer and electric digital control
ü The slotter knife stock gap adjustment adopt self-locking structure
ü There's the elastic corner-cutting knife. Can cut three, five, cardboard without adjusted.
ü Preload wheel, creas wheel, slot knife traverse position computer and electric digital control
ü The slotter knife adopt Anti-knife manner
ü Computer automatic arrange knife, can stockpile 999 memories
FOLDER GLUER
ü Folding side members extremely strong
ü Folding section boxes of great length
ü Independent drive with AC motor
ü Folding beams extremely strong and free of bending and vibration
ü Chromed shafts
ü Safety guards according to "CE" standards
ü Powered positioning folding and gluing beams
ü Long section folding belts driven on grooved pulleys