Introduction:
YK-1600SFL Single Facer Line is also called 2-layer corrugated paperboard production line. This Single facer Line is composed of Paper Roll stand, Single facer machine, paper cutting machine. To use the web paper material single face machine production line, producing and cutting single face corrugated paper as required sizes, it forms the corrugated board with no need drying. This unit has the advantages of reasonable fabric, advanced technology, high quality of production, high efficiency, low workmanship, operation and maintenance easy. This is the preferred equipment for the production of corrugated cardboard of the cardboard factories.
Specification:
Working Width

YK-1400SFL

1400mm

YK-1600SFL

1600mm

YK-1800SFL

1800mm




Heating method

Electrical heating/Oil heating / Steam heating

Design speed

100-120m/min

Economical speed

80-100 m/min

Compress-air pressure

0.4-0.9MPa

Flute type

Standard flute

UV Flute

single facer line

Standard spec.

A,B,C,E,F




For other type and model, we can produce as customer's requirement.
hydraulic shaftless mill roll stand
structural feature
ü Adopt hydraulic drive to complete the paper clamping, loosen, remove for the medium, translation left and right and others,the lifting of the paper adopts hydraulic drive.
ü Brake adjustable adopts multipoint braking system.
ü Every stand matched two sets paper car , and they can paper on the both sides at the same time.
Technical parameters:
1、the range of clamping paper:MAX1600mm MIN1000mm 2、clamping diameters:MAX¢1500mm MIN¢350mm
3、main shaft diameter of paper holder:¢242mm 4、gas source work pressure(Mpa):0.4---0.8Mpa
5、equipment size:Lmx4.3*Wmx1.8*Hmx1.6 6、single weight:MAX4000Kg
Hydraulic system parameters:
1.Work pressure(Mpa):16---18Mpa 2、lifting hydraulic cylinder:¢100×440mm
3、Clamping hydraulic cylinder:¢63×1300m 4、hydraulic station motor power:3KW --380V -- 50Hz
5、solenoid valve voltage:220V 50 Hz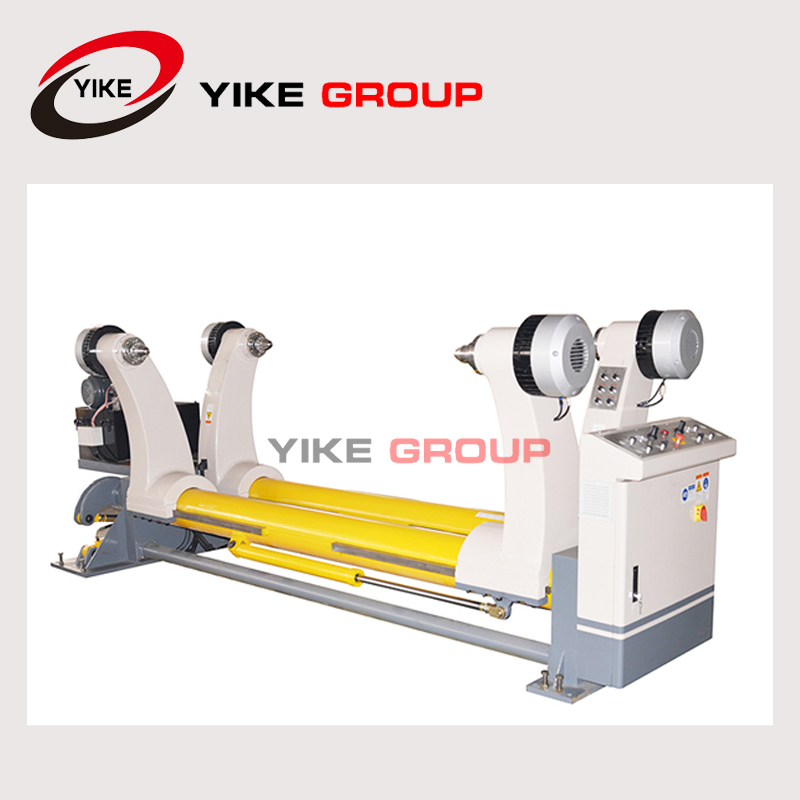 Shaftless mill roll stand(OPTION)
Structural features:
1、Symmetrical structure can also install two bundles of paper at the same time,Paper can be used for non-stop for a job;Adopts mechanical drive to complete the paper clamping, lifting, loosen, move on, around translational motion, etc.
2、each shaftless mill roll stand is equipped with two pieces of paper guide, two set of paper car;paper guide the use of channel 14 and the guide post weld,paper car adopt 10mmwelded stell,the length of track is 4500mm。
3、manual dics brake,add screw following
4、electric elements centralized control the electric elements,expand chuck。
technical parameters:
1、Backstands action mode:mechanical electric operation
2、the range of paper jams:maximum:1600mm minimum:600mm
3、the diameter of paper jams:maximum:¢1400mm minimum:¢400mm
4、Unilateral maximum load:maximum2000Kg
5、Powered motor parameters:
①Paper jams motor550W×4set 380V 50HZ short(S2)working standard
②lift motor 1.5Kw 380V 50HZ short(S2)working standard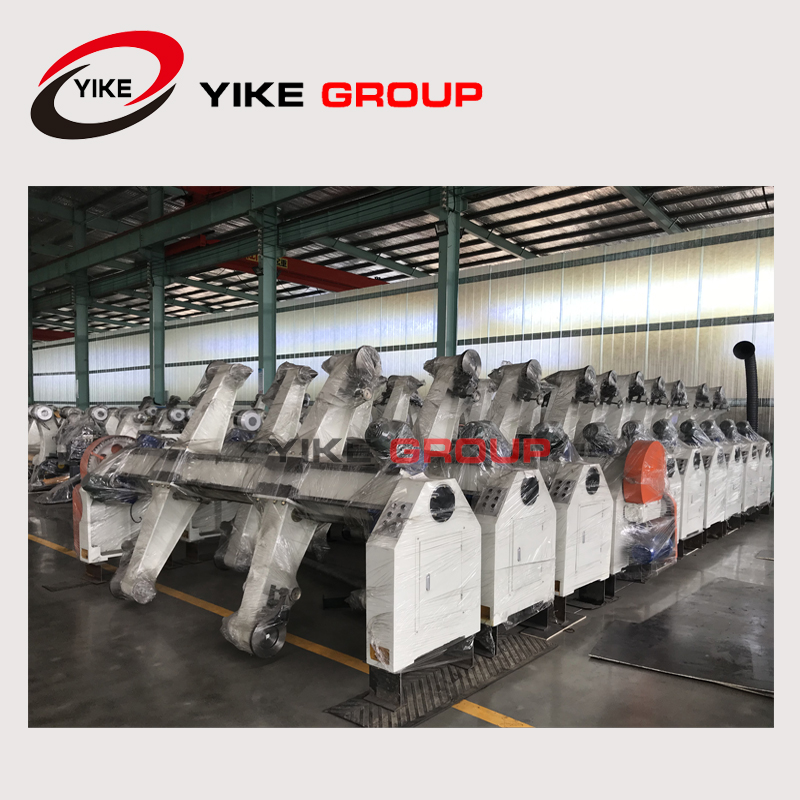 SF-280S fingerless type single facer
Structural features:
Adopt vacuum suction structure, with high pressure strong blower. Suction with silencer.
2、base and wallboard cast iron wall,Wallboard thickness130mm。universal Joints。
3、corrugated roller material adopt 50CrMo Alloy steel
4、pressure roller ¢ 284mm,surface grinding and chrome-plated;cylinder control and remove up and down, 45 carbon steel materials, quenching (with cushioning devices)。
5、pneumatic control glue to glue back, glue roller diameter ¢215mm,Engraved polished surface after a 36-line pit style textured machined chrome plated,after scraping the roller surface polished hard chrome plated.
6、Corrugated roller, pressure roller materials provided by the Central Plains Steel,High on corrugating unilateral 0.15mm, 0.075mm high pressure roller unilateral. Plus stopper. ¢ 160mm cylinder with compression cylinder.
7、preheat roll adopt seamless steel pipe production by tiangang ¢ 300mm,connecting with metal Hose.
regular technical parameters:
1、effective width:1600mm 2、operation direction:left or right(determined in accordance with customer plant)
3、design speed:100m/min working speed:60m/min
4、temperature range:200—260℃
5、corrugated flute:(UV type or UVV type)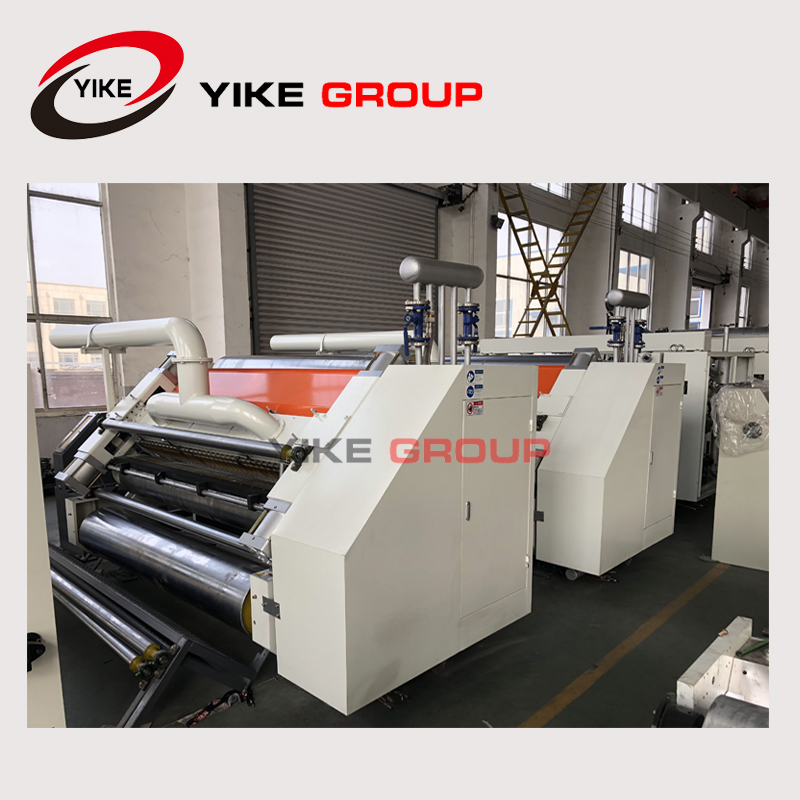 NC-1600 Computer sheet cutter machine
Structural features:
1、can save 200 sets of orders, replace the cutting specifications quickly and accurately, non-stop for a single, and can achieve computer networking, easy production management.
2、knife shaft drive gear with eccentric shaft installation, to achieve no backlash drive, high transmission accuracy.
3、cross-cutting knife with inserts steel blade. Fixed blade blade flat structure, more stable, more suitable for cutting high weight and high toughness of cardboard, the shear force is small, long blade life.
4、pull paper roller outsourcing non-slip material, more wear-resistant, accurate size.
5、host base and wall panels with high-grade gray cast iron, high strength, strong anti-vibration.
6、servo controller control motor drive, 5.7 inch color touch screen display, the project at a glance.
cutting length: 300mm-9000mm, cutting accuracy: ± 1.5mm (steady speed).
General technical parameters:
1.Working width:1600mm
2.Mechanical speed:60m/min
3.Minimum cut length:300mm
4.Maximum cutting length:9000mm
5.Cutting accuracy: uniform speed ±1.5mm
Power motor and electrical parameters:
1.Main drive motor power:3KW
2.Full AC Synchronous Servo Control
3.Papermaking motor power:3KW(Frequency)