Main Technical Parameters And Requirements In Production Line
Type:YK-150-2200-Ⅱtype five layer corrugated paperboard production line:
| | | | | |
| --- | --- | --- | --- | --- |
| Specification | Equipment name | UNIT | QTY | Remark |
| YV5B | Hydraulic shaftless mill roll stand | a | 5 | Spindle ¢ 240mm, hyperbolic heavy rocker, expand chuck , multi-point brake, hydraulic drive lifting, panning left and right on the middle.Guide rail length 6000mm,use of plate welding。Rail length6000mm,trolley used 10mm plate welding. |
| | Paper trolley | a | 10 | |
| RG-1-900 | Top paper preheat cylinder | a | 2 | roller ¢900mm,including pressure container certificate.Electric adjustment wrap angle。Wrap angle can adjust the paper preheat area in the range of 360°. |
| RG-1-900 | Core paper preheat cylinder | a | 2 | roller ¢900mm,including pressure container certificate.Electric adjustment wrap angle。Wrap angle can adjust the paper preheat area in the range of 360°. |
| SF-320C | Fingerless type single facer | a | 2 | Corrugated main roller ¢320mm,material with 48CrMo alloy steel,tungsten carbide dealing,Tile roll modular group lifting transfer.Airbag ballasting structure,import main bearing,PLC automatic control glue,HMI touch screen,Breaks automatic parking relief,steam heating way. |
| RG-3-900 | Triple preheater | a | 1 | roller ¢900mm,including pressure container certificate.Electric adjustment wrap angle。Wrap angle can adjust the paper preheat area in the range of 360°. |
| GM-20 | Double glue machine | a | 1 | Glue roller diameter 269mm.Each independent frequency motor drive, glue roller diameter 269mm.Each independent frequency motor drive,PLC adjust glue gap and HMI. |
| ZDF | heavy type conveyor bridge | set | 1 | 200mm main beam channels, independent inverter motor drive pull paper feed, adsorption tension.Electric correction. |
| SM-F | Double facer | set | 1 | Rack 360 mm GB channel,Chrome hot plate 600 mm *16 pieces,The whole structure of the hot plate design.PLC automatic control press plate. Temperature display, frequency motor. |
| NCBD | NCBD thin blade slitter scorer | a | 1 | Tungsten alloy steel, five knives eight lines,zero-pressure line type. Schneider servo computer automatically discharge knife, suction outlet width automatically adjusted. |
| NC-150 | NC cutter helical knives | a | 1 | Full AC servo control, energy storage brake, helical blade structure, oil-immersed gears,10.4-inch touch screen display. |
| DM-XLM | computer gantry automatic stacking machine | a | 1 | Servo drive platform lifting, three section of frequency transport,automatic points stack discharge,Imported high-strength belt output, out paper side standard transport aircraft. |
| ZJZ | Glue station system | set | 1 | Customers -owned pipeline。Glue configuration is composed by carrier tank、main tank、storage tank、and send plastic pump、back plastic pump. |
| QU | Gas source system | a | 1 | Air source、pipeline is prepared by the customers. |
| ZQ | Steam system | set | 1 | Steam system components used in all GB valves。Including rotary joint,upper and lower dispenser。traps,pressure table and so on。Customer-owned boilers and pipes. |
| DQ | Electrical control cabinet system | set | 1 | Electronic control system::fingerless single facer、driving part、NC thin blade slitter scorer、double facer、glue machine all adopt frequency motor,delta frequency control system.operation interface easy and convenient,Speed display control cabinet with each unit speed display, the unit call, emergency stop function.The main relays Schneider brand. |
YV5B HYDRAULIC MILL ROLL STAND

technical parameters:
1. the range of clamping paper:MAX2200mm MIN1000mm
2.clamping diameters:MAX¢1500mm MIN¢350mm
3.main shaft diameter of paper holder:¢240mm
4.gas source work pressure(Mpa):0.4---0.8Mpa
5.equipment size:Lmx4.3*Wmx1.8*Hmx1.6
6.single weight:MAX4000Kg
Hydraulic system parameters:
1.Work pressure(Mpa):16---18Mpa
2.lifting hydraulic cylinder:¢100×440mm
3.Clamping hydraulic cylinder:¢63×1300m
4.hydraulic station motor power:3KW --380V -- 50Hz
5.solenoid valve voltage:220V 50 Hz
Mainly purchased parts, raw materials and origin:
| | | |
| --- | --- | --- |
| Name of main parts | Brands or place of origin | material |
| Main shaft | Day steel production | diameter242mm |
| Swing arm | Production by own | Resin sand gray ironHT200 |
| wallboard | Jigang prduction | Q235AWelding parts |
| bearing | HRB,ZWZ,LYC | |
| expand chuck | Zhejiang xusheng | 3,4inch shared |
| Main electrical appliance | France Schneider | |
| button | CHINT NP2series | |
| Air switch | French Schneider | |
| Pneumatic components | Zhejiang Sonor CSM | |
| Hydraulic station | Shandong zaozhuang | |
| Brake pump | zhejiang | |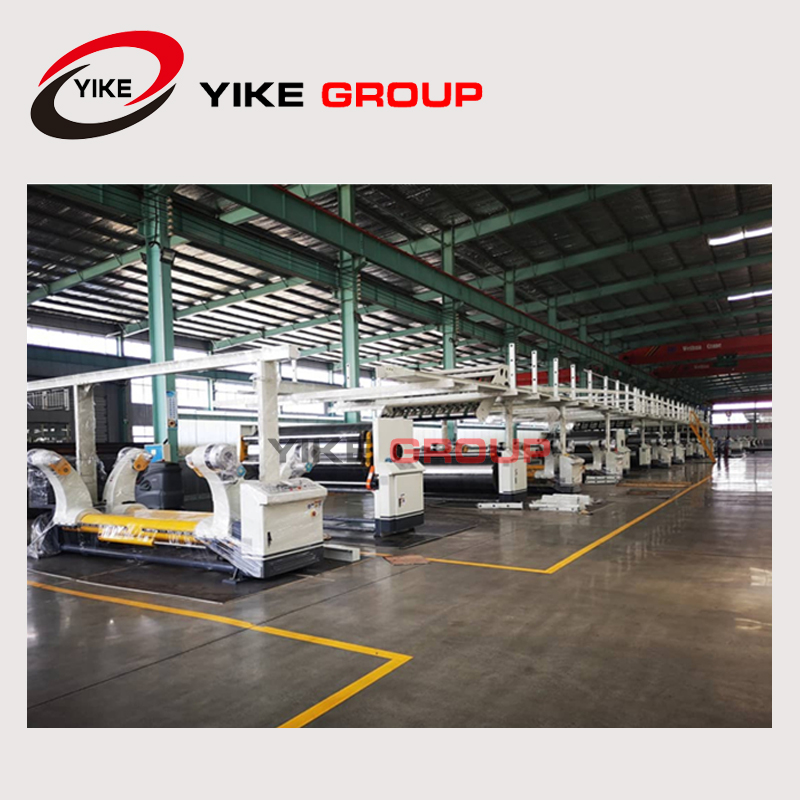 SF-320C SINGLE FACER MACHINE

structural feature:
★adopt suction hood structure,matched high pressure powerful fan,Suction with silence.Operating side closed full cover.
★By vacuum suction by the fan box will corrugated corrugating absorbed approximately 180 degrees within a negative pressure zone to complete corrugated shape.
★lower corrugated roller suction width is 2.5mm,it can reduce corrugated cardboard streak marks.
★Drives independent transmission universal joint drive, isolate the source of vibration, easy maintenance, smooth running, transmission gears are oil-immersed lubrication, the gears durable. Cast iron wall thickness of 240mm.
★install the corrugated lifting trolley above the transport flyover,we need to use the car to remove the tile when the roller assembly and pressure roller, etc., and convenient.
★Glue roll unit deliverable device during maintenance coating unit as a whole is maintained at Sway the machine as a whole through the eccentric shaft, saving maintenance time and improve efficiency.
★The humidity control apparatus equipped with a spray that flute type of deformation to maintain good stability, prevent chapped by dry and wet valve control local area as needed.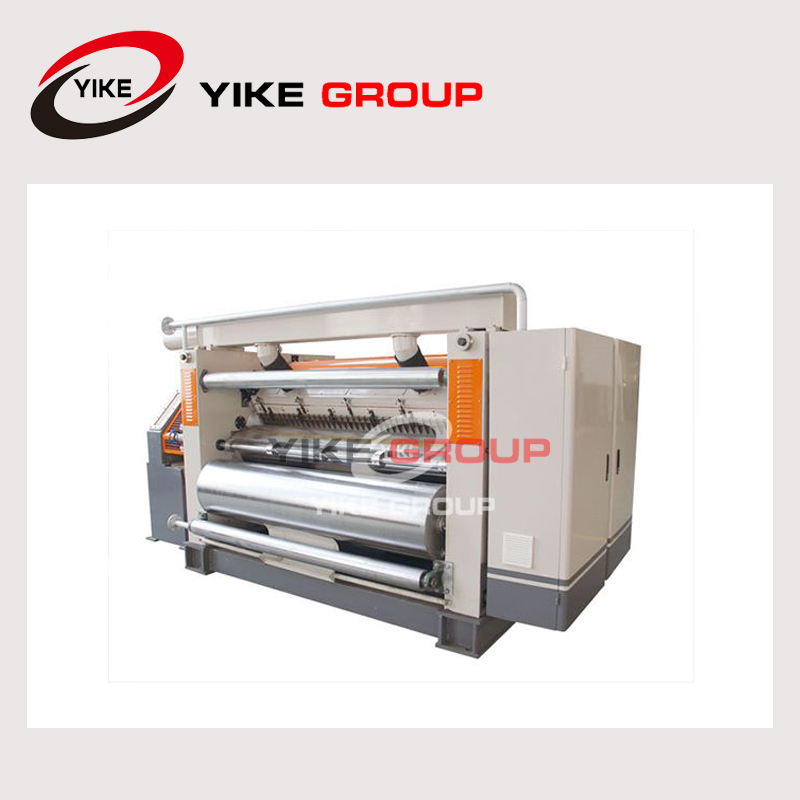 NC COMPUTER THIN BLADE MACHINE

Structural features:
★Synchronous servo motor control row of knives, cable. Automatic reset. Precise dimensions.change order time 3-8 seconds,the two machines can be achieved with no slow down immediately for a single memory of 999 order,non-stop automatic change order or manual change order can be realized.
★Schneider M258PLC control system, using CANopen line system, with order management capabilities, with the dryer speed synchronous signal input.
★HMI with 10.4-inch color touch screen, storage 999 orders, change orders automatically or manually for a single, fault alarm.
★Three kinds of pressure line forms:Convex against the concave(three layers line),Convex against the concave(five layers line),Convex against Flat,Three kinds of electric pressure line forms can be converted.Crimping round shades by computer control,linear, and easy to bend.
★Using thin tungsten alloy steel knife,sharp blade,long life of more than 8 million meters.
★knife sharpener for computer control,automatic or manual knife sharpener,Cutting edge sharpening can be divided,improve productivity Efficiency.
★Imported synchronous drive system, precision accurate, long life, low noise operation

Technical parameters:
1.MAX working width:2200mm
2.operation direction:left or right(Determined in accordance with customer plant)
3.the highest machinery speed:200m/min
4.Mechanical configuration:Zero pressure line thin blade slitter scorer 5 knives 8 lines
5.The minimum width of the cutter:135mm The maximum width of the cutter:2050mm
6.The minimum distance between the indentation:0mm
7.Cutter wheel positioning accuracy: ±0.5mm