Main technical parameters and requirements in production line
Type:YX250-2200 type 7 layer corrugated paperboard production line:
1

Effective width

2200mm

2

Design produce speed

250m/min

3

Three layer work speed

180-220m/min

4

Five layer work speed

140-180m/min

5

Seven layer work speed

120-150m/min

6

The highest change single speed

150m/min

7

Longitudinal separation accuracy

±1mm

8

Cross-cutting precision

±1mm

note

Speed the above targets required to achieve:effective width2200mm,Comply with the following standards and ensure the paper's equipment condition 175 ℃ heating surface temperature.

Top paper index

100g/㎡--180g/㎡ Ring crush index(N.m/g)≥8 (Water containing8-10%)

Core paper index

80g/㎡--160g/㎡ Ring crush index(N.m/g)≥5.5 (Water containing8-10%)

In paper index

90g/㎡--160g/㎡ Ring crush index(N.m/g)≥6 (Water containing8-10%)

9

Flute combination




10

Steam requirment

The maximum pressure 16kg/cm2
Common pressure10-12kg/cm2

use4000kg/Hr

11

Electricity demand

AC380V 50Hz 3PH

Total power≈400KW

Running Power≈220KW

12

Compressed air

The maximum pressure 9kg/cm2
Common pressure4-8kg/cm2
use1m3/min

13

space

≈Lmin110m*Wmin12m*Hmin5m(The actual drawing to provider to provide audited prevail)
Customer-owned section
1、 steam heating system:proposal with 4000Kg / Hr of a steam boiler pressure:1.25Mpa steam pipeline.
2、 air compressed machine、air pipeline、glue conveying pipe.
3、 power supply、wires connected to the operation panel and line pipe.
4、 water sources、water pipelines、buckets and so on.
5、 Water, electricity, gas flush mounting civil foundation.
6、 Test with the base paper、corn starch (potato)、Industrial use caustic soda、borax and other material.
7、 Oil equipment、lubricating oil、hydraulic oil、lubricating grease.
8、 installation、commissioning of food, accommodation。And provide installers with the installation.
※ZJ-V5B hydraulic shaftless mill roll stand
※structural feature:
1、adopt hydraulic drive to complete the paper clamping, loosen, remove for the medium, translation left and right and others,the lifting of the paper adopts hydraulic drive.
2、brake adjustable adopts multipoint braking system.
3、every stand matched two sets paper car , and they can paper on the both sides at the same time.
※technical parameters:
1、the range of clamping paper:MAX2200mm MIN1000mm
2、clamping diameters:MAX¢1500mm MIN¢350mm
3、main shaft diameter of paper holder:¢240mm
4、gas source work pressure(Mpa):0.4---0.8Mpa
5、equipment size:Lmx4.3*Wmx1.8*Hmx1.6
6、single weight:MAX4000Kg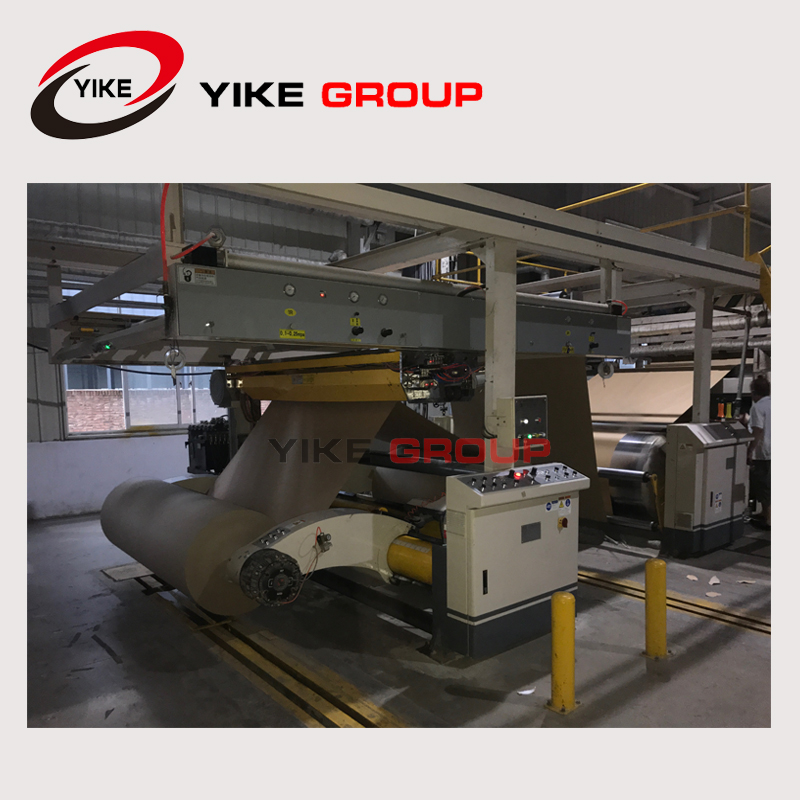 ※RG-1-900 top(core)paper preheat cylinder
※RG-4-900 triple preheater
※structural features:
1、preheat roller accord the pressure container national standards,and enclose the pressure container certificates and inspection certificate.
2、Each roller surface after grinding precision grinding and dealing with hard chrome plating, Surface friction is small, durable。
3、electric adjustment angle, and angle can rotation adjustment the preheat area in the range of 360°。
※SF-360C1 fingerless type single facer
※structural feature:
1、Main corrugated roller: ¢360mm(according to the flute shape different),pressure roller
¢415mm,preheat roller¢400mm。
2、Adopt negative pressure design,use less heat,make the core paper can be pressed evenly and attached to the surface of the corrugated roller, make the corrugator shape better.Because the pressure is evenly,the top of the corrugator can be glued more evenly,make the single corrugated paper bond better.
3、Corrugated roller use 48Crmo alloy steel, though heat treatment, surface through grinding make tungsten carbide treatment.
4、Corrugated roller and pressure roller use high stability gasbag control system, also have air pressure control buffering function.
5、Glue quantity control use electric adjust, glue isolation device electric, glue system can operate independently when main machine stop, to avoid glue use up.Glue tank is made of stainless steel.
6、Movable type glue system, wash easily, maintenance and repair is more easy.
7、Simple control system and touch screen system, with colorful pictures show the operate sate、 function choice、faliure indication、exclude and parameter setting all can act out the machine's multi function, easy operation and humanization.
8、Preset device inside with spray system, adjust the core paper's temperature and moisture.
9、Main,vice corrugated roller and pressure roller bearing all use high temperature grease, to make sure the bearing working life longer and running smoothly.
10、Pressure roller use unpowered structure, original design, advanced structure,greatly reduce the vibration and noise of the equipment at high speed.
11、Both ends of the pressure roller equiped with weighing sensor, which can direct detect the pressure at both ends of the pressure roller.