Introduction:

Computer type automatic folder gluer machine is consist of three parts, which is paper feeding part, gluing and folding part and counting and stacking part. Automatic Computer adjustment paper feeding / fold and glue. Automatic counting and stacking output. Wall board thickness 20mm. The speed can reach 150-200 pieces per minute. Advanced and reasonable structure design and manufacture, it demands for cultural level of operators is not high, and operators will be able to handle all operating procedures in one or two working days, and protect the safety of operating personnel. Delta touch scree, PLC, Inverter, China Famous Brand bearings.

Specification:
| | |
| --- | --- |
| Model | YKN-ZXJ 2800 |
| Max. Cardboard | 1200*2400mm |
| Mini. Cardboard | 300*800mm |
| Diemensions | 15500×3000×1600mm |
| Power required | 12 kw |
| Speed | 150-200 Pcs/min |
| Voltage | 220V/380V/415V |
Parts:
| | |
| --- | --- |
| Touch screen | Siemens |
| Frenquence | Siemens |
| Button | Siemens |
| AC Contactor | Siemens |
| Stroke switch | Siemens |
| Intermediate relay | Schneider |
| Switching Mode Power Supply | Delta |
| Circuit Breaker | Chint |
| Bears | H.RB |
※Feeding unit
l The vacuum suction feeding system, accurate and reliable.
l The use of high-end electromagnetic clutch and electromagnetic brake system, so that the paper can be controlled separately, the operation is simple and reliable.
l Pressure roller adjustable, suitable for cardboard thickness 2-8mm.
l linkage and folding department, frequency control, feeding speed 120m / min.
l The front baffle and feed belt of the paper feed section are adjustable left and right.
※Folding and gluing unit
l The main motor adopts frequency control, the system has no noise, speed regulation is flexible and stable.
l imported high friction belt conveyor cardboard, automatic folding.
l With stainless steel wheel coating, glue evenly, trouble-free, but also save plastic.
l Folding Department equipped with cardboard correction device and indentation correction device.
※COUNTER AND Stacker unit
l Using digital control, simple operation, reliable operation, non-stop input data, automatic counting, accurate output.
l The use of belt conveyor cartons, neatly stacked.
l separate drive, differential, with correction function, the deviation can be adjusted.
l Counting and the introduction of pneumatic way, reliable action, accurate and fast.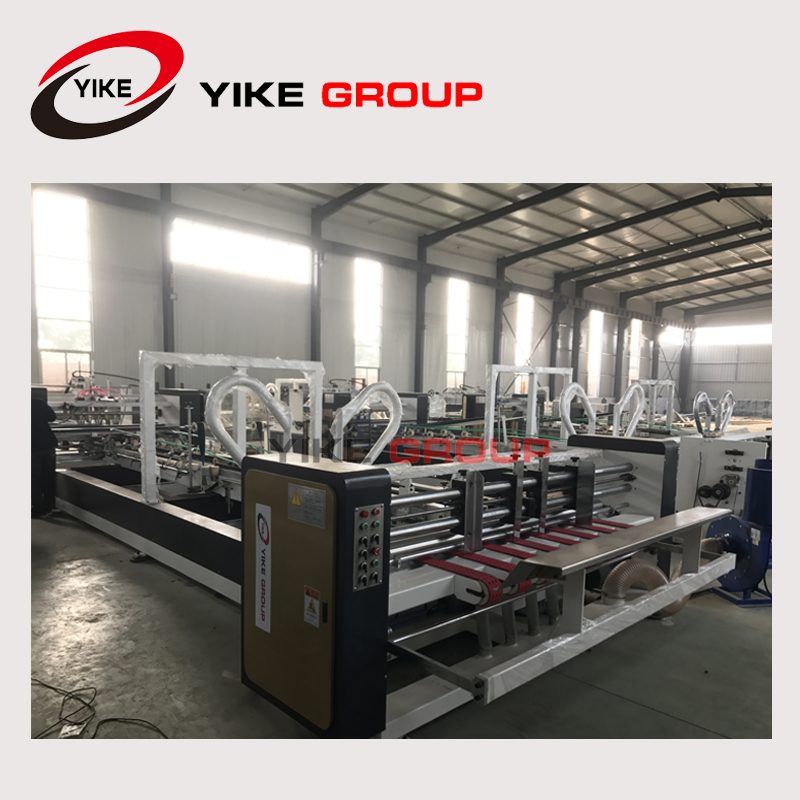 Carton Box Folder Gluer Machine